Media
---
IAG nine in one air quality detector
You can not help but know the quality of the air crisis.
Bad air quality will lead to death !!
1. A cancer patient in Taiwan is diagnosed every 5 minutes and 18 seconds.
2. Of the10 large cancer mortality, and the construction of the indoor environment accounted for 9(in addition to car accident death).
3. The world's air pollution is serious, the annual death of 7 million people is related to air quality.
4. In addition to cancer and nasal allergies, the latest study found that adult atopic dermatitis is also associated to air pollutionwith the increased PM2.5 in the air..
5. Average people spends 90% of their lives indoors.
6. Neglected indoor air quality in a home has caused many health problems. Home should be our shelter and refuge, not the cause of our illness.

Where is the source of pollution?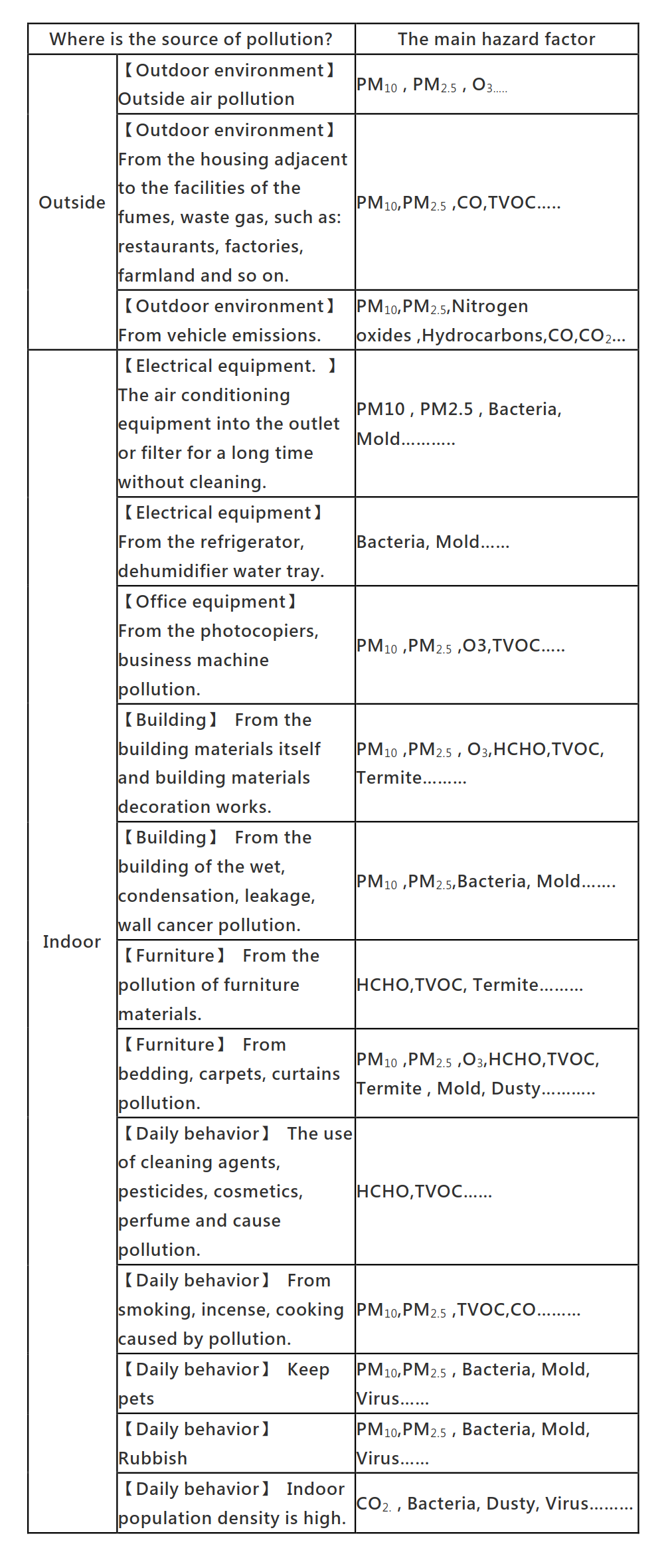 Product features:
IAG(Indoor Air Guardian) has a number of professional certification and patents. It has retained the accuracy of laboratory equipments without its high cost and bulkiness. It is thoughtfully designed with friendly interface, easy maintenance, and adjustable warnings and detections.

IAQ Guardian Advantages:
1. "Comfort, Health, Wisdom, Energy saving": According to the status of indoor air quality, intelligent clean system and heat exchange function, the introduction of fresh air, adjust the indoor temperature and humidity, reduce air conditioning system burden.
2. "Customized ultra-precision instruments": For customers set by the TAF and CE certified laboratory grade air quality detection equipment.
3. "In line with the provisions of the EPA(R.O.C) air quality detection factor": Strict control of indoor air quality, with the Taiwan Environmental Protection Agency Indoor Air Quality Act.
4. "The world's only detectable mold technology instrument": A unique mold detection technology, can quickly and accurately grasp the air pollution of the situation in the mold.
5. "Professional full set of services": To provide professional, rapid installation, detection, diagnosis, improvement, maintenance of a full range of services.
6. "Close the window can also maintain the indoor air quality": The introduction of indoor air purification filter, and dirty air outdoors.
7. Top cold and heat exchange technology: built-in heat exchange system, effectively reduce the energy consumption caused by ventilation, reduce air conditioning equipment power consumption.
8. "Expandable and upgrade the detection factor of the device": The expansion of detection factors, in response to national laws and regulations.
9. "Clearly show the measured value": consumers can control the indoor air quality through the panel and improve the situation.
10. "Technology boutique fashion panel": Mirror glass touch panel, beautiful, small size does not account for space.
11. "Low equipment maintenance fee": Automatic calibration function, free additional cost of correction, simply replace the filter, and provide 1 year warranty.
12. "Remote monitoring function": You can use the mobile phone remote monitoring of indoor air quality status.
13. "Exclusive test report": To provide customers with exclusive indoor air quality health care report and provide solutions every year.

The scope of application:
"IAQ Guardian"after years of development, cross-domain integration, the introduction of international technology, will be expensive professional equipment, developed into a hospital, home and public professional indoor air quality detector.
Available range:The public and private space published by the Indoor Environmental Quality Management Law of the EPD(R.O.C).
ex:Hospitals, clinics, stations, MRT stations, airports, factories, offices, shopping malls, schools, cinemas, restaurants, supermarkets, food street, public space and home space.

Test items:
Mold, formaldehyde, PM10, PM2.5, TVOC, CO2, CO, temperature, humidity.

IAQ Guardian specializes in protecting your health
★ Meet your comfort, health, wisdom, energy-saving needs.
★ Custom ultra-precision air quality detection equipment.
★ Synchronized the air quality detection factor with EPA in Taiwan.
★ The world's exclusive testing of mold technology equipment.
★ Installation, detection, diagnosis, improvement, maintenance professional service package.
---
Like this article? Share to a friend to know!
&nbsp&nbsp
User Comments